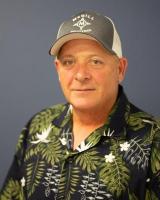 Todd was born and raised in Port Alberni and has had the chance to work both on and off the Island.
Todd was part of the McGill Team as a rodman back in 1993-1998 before moving on for new experience.  Since then, he has completed work for legal land surveying, run of the river projects, and most recently spent three years at Site C in Fort Saint John.  Todd saw the opportunity to come home and work with McGill and is excited to rejoin the team.
Todd enjoys the natural surroundings of the West Coast, and spends his free time by quading, camping, and much else in the great outdoors.