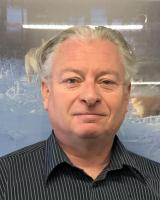 Dave completed his B.Sc. and M.Sc. in Environmental Engineering, in 1993 and 1996 respectively, at the University of Guelph, Ontario.   He has eighteen years of experience working for consulting engineering firms as a project manager and engineer, and another eight years experience in Public Works departments as a municipal project manager and staff supervisor.
Dave's broad range of engineering experience includes stormwater management, watershed planning, drinking water treatment and distribution, wastewater collection and treatment, subsurface wastewater disposal, land development, landfill design, air pollution assessment and control, greenhouse gas management, master planning, and public consultation. 
Dave has applied his experience to projects ranging from single lot developments, up to municipal infrastructure planning projects serving hundreds of thousands of people.  He has successfully managed infrastructure projects for municipal and federal governments, First Nations, land developers, manufacturing facilities, and golf courses. 
Dave and his family were lured from Ontario to the Alberni Valley by the abundant natural beauty and outdoor recreation opportunities.  He enjoys both backcountry and trailer camping, canoeing, hiking, and he is a member of the Alberni Valley Nature Club.  He is looking forward to attempting some of the local mountain summit trails in the coming summers.